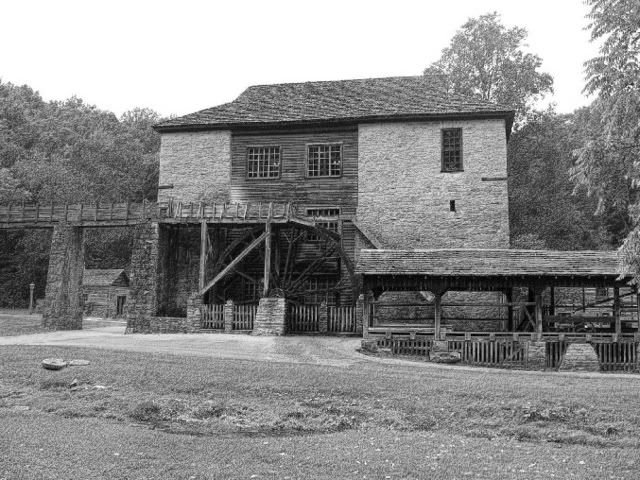 Spent time with family over the weekend and went to
Spring Mill State Park
located in Mitchell Indiana. I have enjoyed going to
Spring Mill Park
since being a kid and have some fond memories there from Frost family reunions to exploring the pioneer village and nearby caves. Heres some picts I took of the working grist mill/mueseum, cabins,old ammo, muzzleloaders and such. The grist mill is powered by the water from nearby Hammer cave.
The park is in the heart of Indiana's karst country, an area characterized by caves, sinkholes, disappearing rivers and massive limestone deposits.
(Click pics to enlarge)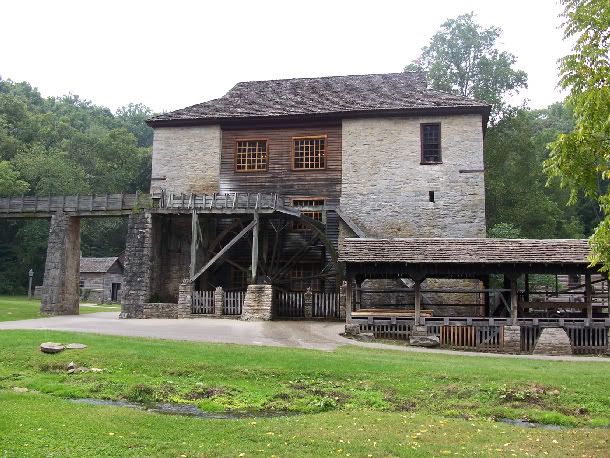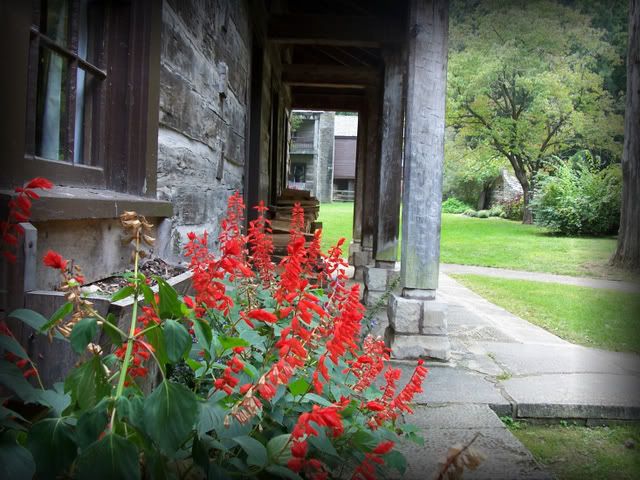 Limestone has played an important part in construction and commerce in Indiana. In 1817, Bullitt's Mill (later Hamer's Mill) was constructed of locally quarried blocks of the St. Louis Limestone. It is ironic that this stone was used, for the world-famous Hoosier building stone, the Salem Limestone, is in the park and later was quarried there. The restored mill is now the centerpiece of the pioneer village at Spring Mill State Park near Mitchell.
The mill was immediately successful, and soon a thriving village developed and flourished. After construction of the Ohio and Mississippi Railroad, which bypassed the settlement, the village gradually declined. Abandoned in the 1880's, it became the property of the Lehigh Cement Co., which gave the site to form part of Spring Mill State Park.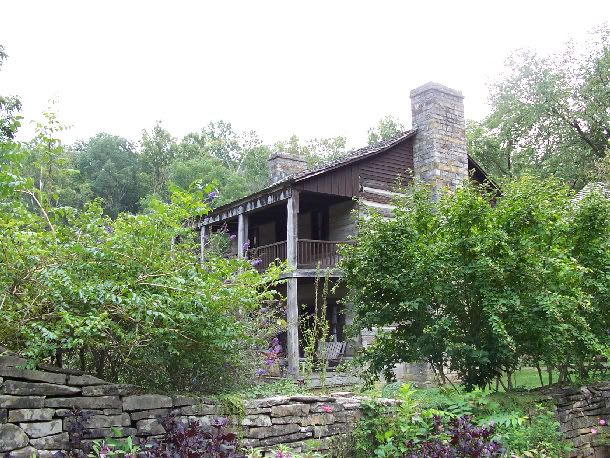 Got to listen to some fine music as well. This is my dad and my cousin Carrolls husband Mark playing the banjo.(Thanks for bringin that banjo Mark!)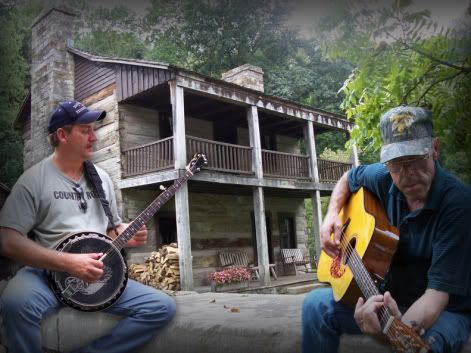 Some items located in the grist mill.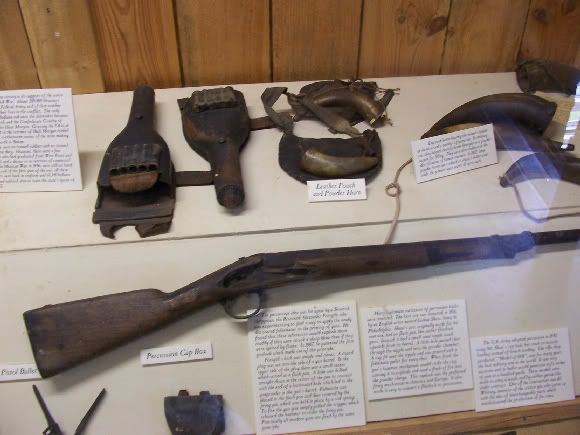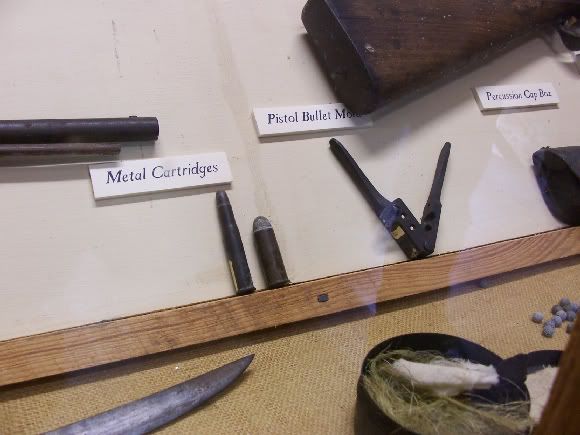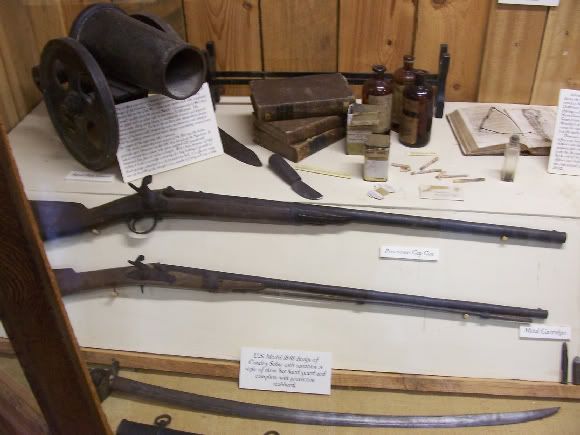 Spring Mill State Park also has the Virgil "Gus" Grissom memorial and houses the Gemini "Molly Brown" spacecraft.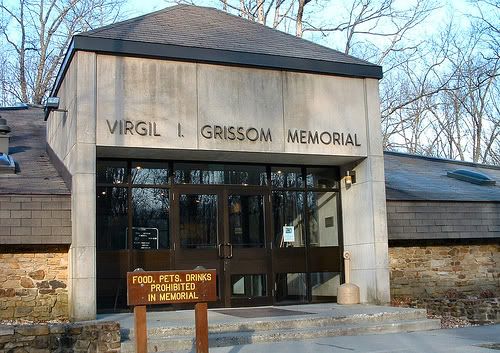 A memorial to Gus Grissom, one of the original 7 Mercury astronauts and second man in space. Grissom was killed in an Apollo 1 fire on the landing pad, along with Roger Chaffey and Ed White practicing for their next mission.
On the side of Grissom's "Molly Brown" Gemini spacecraft.
The cabin for the pilot in the "Molly Brown" Gemini spacecraft. Virgil "Gus" Grissom flew this into space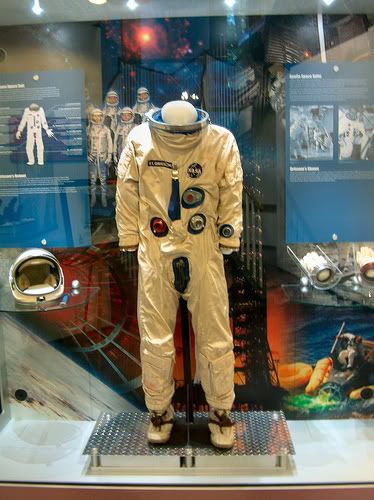 No trip to
Spring Mill
would be complete without a hike to Donaldson cave.
Donaldson Cave, one of at least three caves within the park, is where the northern blind cave fish was discovered, a now endangered species that has no eyes. Spring Mill's historic impact is matched by the heritage of nature that the park preserves.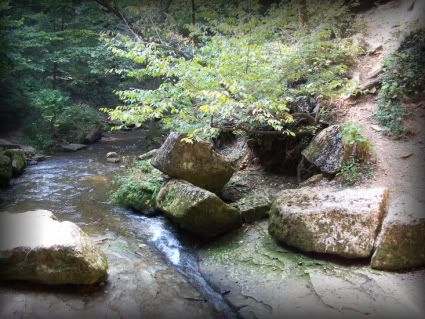 Containing some virgin timber, the area is pockmarked by sinkholes, and nine named caves lie within the park. These features were formed, and are being modified by rainwater percolating through the soil down into the underlying limestone. The topography was formed during the past few million years, but the bedrock originated in seas that covered Indiana more than 300 million years ago.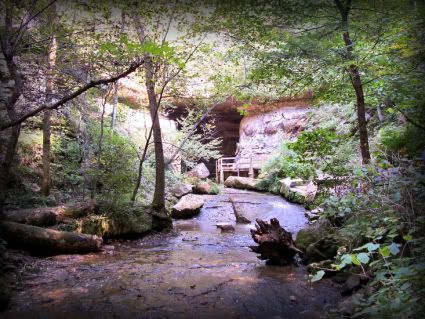 Donaldson Cave system and Hamer Cave are the major caves in the park, and both were intimately related to the life of the early residents. Both provided water to power mills; saltpeter for gunpowder was taken from Donaldson; and villagers prepared meat and cooled perishable foods in both.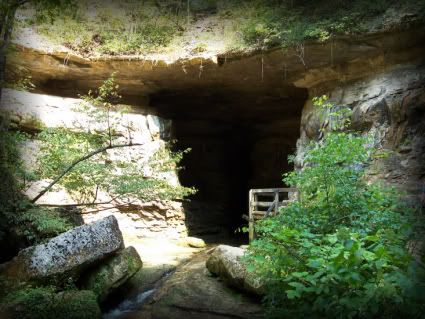 Related Websites:
http://www.stateparks.com/spring_mill.html
http://www.showcaves.com/english/usa/showcaves/SpringMill.html
http://www.indianatraveler.com/state_parks/spring_mill.htm
Contact Information:
Spring Mill State Park
Box 376Mitchell, IN 47446
812-849-4129